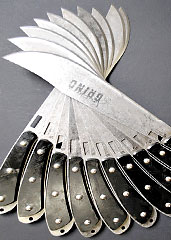 Maybe you like country music. Maybe you don't.
But regardless of which side of the fence you're on, chances are you've noticed a particular problem about the industry as a whole: nobody's making any damn machetes.
Somebody get Zac Brown on the phone.
Take a look at
Southern Grind
, an Atlanta-based metal shop (with a strong to very strong backing from a certain local country star) that specializes in extremely large, extremely sharp knives, available now.
Right about now, you may be asking yourself what you could possibly use a machete for. First off: horrible question. Secondly:
—World's most intimidating envelope opener.
—That's-not-a-knife-offs with Mick Dundee.
—Shaving like a Confederate soldier for absolutely no reason.
That, or cutting down unruly branches on a hike. Either way, their flagship blade, the
GranDaddy
, is kind of the real deal. Each one is meticulously handmade from reclaimed carbon metal and differentially heat-treated, and comes with a laser-etched sheath and its own carrying case.
Oh, and they also make belt buckles out of the same materials used for those machetes.
Which we assume include the tears of Paul Bunyan and Willie Nelson.