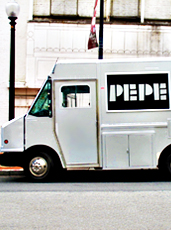 You've got this whole food-truck thing down to a science. The digital food-truck ticker in your office. The sterling-silver cutlery set in your breast pocket.
And yet, you just haven't found the cuisine worthy of the white tablecloth you like to spread on your favorite park bench.
Here to help:
Pepe
, the first food truck by José Andrés, launching for lunch tomorrow.
After a few dozen trips to Jaleo, you'd more or less expect this from an Andrés truck—
Spanish baguette sandwiches
stuffed with beef tenderloin, blue cheese, pork patties, even the coveted ibérico ham.
You know the drill: you'll follow them on Twitter (of course, you'll also add them to the giant food-truck map in your office). But if that should fail, fear not: the truck will be hard to miss, as it's covered in metallic silver paint, which they say sparkles in the sun, and it plays Spanish pop music.
But you're not here for aesthetics—you're here for the sandwiches. Like a Spanish grilled cheese piled with five kinds of cheese or the $20
Pepito de Ibérico
, with seared ibérico and serrano hams with peppers, onions and aioli.
Round things out with a cup of nonalcoholic sangria, fried patatas bravas and a chocolate-hazelnut ice cream sandwich for dessert.
Don't be afraid to dunk.