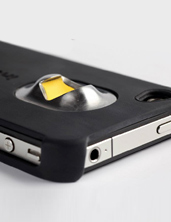 March: challenging month.
Keeping up with the Madness. Keeping pace with the Irish. Obviously, you'll need your best stuff out there.
An analytical edge, if you will.
Or just a really smart bottle opener.
Raise one up to
Intoxicase
, a new bottle-opening iPhone case that elevates your game using the power of statistics, available now.
Think of this as the eager younger sibling of
iOpener
—a case that opened bottles with its switchblade mouth, logged your beer-swilling total and then enabled you to brag about it on Facebook/Twitter at the push of a button.
This one's got all that—only it comes with an indestructible polycarbonate shell... and the technological wherewithal to get you home in one piece.
Say you're embracing the refined evening of high-minded revelry (and green beer) known as St. Patrick's Day. At first, this innovation is a total crowd-pleaser (playing a song each time you crack one open, posting your day's achievements online). But then, as you approach your threshold (Guinness-wise), the app component calls you a cab before you find yourself, you know, doing a karaoke number you'll regret.
Of course, it's all in the name of staying sharp. So you'll run a postgame analysis of your beer-enjoyment tendencies over time, plotted in graph form.
Maybe they can get Brad Pitt to play you in the movie.