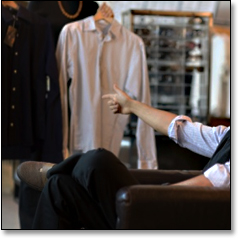 When there's a crisis looming, you take action.
Experts are called in. Options are weighed. Triggers are pulled. Cigars are smoked.
Trouble is, with all the hours you spend pulling things back from the brink, it doesn't leave much time for shopping.
So bring in The Style Therapist from Guise | Chic, your new at-home fashion consultants.
Think of Style Therapist as the Ben Bernanke and Henry Paulson of your closet, not that you need a bailout or anything. First, two "therapists" (a male and female) make a house call to see what you're working with, thread-wise, and determine what you need to stock up on. They'll also round up all those bold-stripe dress shirts, which served you so well in '05, and drop them off at the nearest Salvation Army. (Think of it as community service...mostly.)
Next they'll find pieces that can be updated, take your current measurements and whisk them off to a suitable tailor. When your consultants return with them, they'll also bring new pieces—from brands like John Varvatos, Jil Sander, Brooks Brothers, Burberry and Zenga—for you to pick out.
By the time they leave, you'll probably feel like 700 billion bucks.