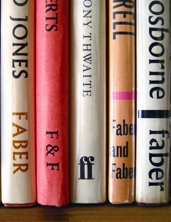 Hef. Mr. Burns. Ron Burgundy.
All have two things in common: a curiously enduring love of silk pajamas. Also: really nice home libraries (we assume).
And should you wish to follow in their footsteps, you'll want to start with some handsome books...
Say hello to
Book/Shop
, a refined bonanza of all the rare literature and handmade furnishings your private library requires, online now.
The man responsible for this collection: Erik Heywood—furniture designer by trade, obsessive book hoarder by pleasure. His game: waltzing into the warehouses of private collectors around Berkeley and buying up their finest editions and rarest book art... and then populating this humble website with his findings.
You'll find a gallery of handsome first editions arranged by a new theme every month. Examples: books about books. Rare Edward Gorey. Tolstoy's lost choose-your-own-adventure novels. (At least two of those are real.) And to keep these gems in top display shape: antique pieces ranging from hand-sewn book sleeves to an original 1939 natural birchwood Penguin Donkey bookcase. (You'll want to use a brandy coaster for that one.)
We can see it now: you've just returned home from a lengthy falconry expedition (or, you know, the office). In search of perspective, you light a pipe and peer up at Jack Kerouac's face, immortalized in a broadside illustration.
Bearskin rug not included.