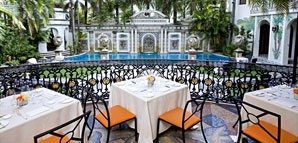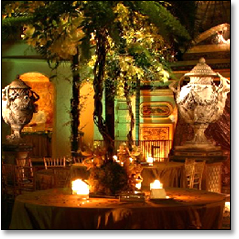 Some gates were meant to be bridged.
Especially the wrought iron entrance to
Loftin's 1116 Ocean
, until now a members-only restaurant at Casa Casuarina, opening to the public for the first time tonight.
You're no doubt familiar with the Casa, Gianni Versace's former residence and the most photographed spot on Ocean Drive. Current owner Peter Loftin has kept the fashion designer's lair intact while transforming the space into a boutique hotel. From the intricate mosaic tiling and gold-plated fixtures to Versace's signature Medusa logo scattered throughout the grounds, the sprawling mansion is a study in romantic excess, of the best possible kind.
The al fresco dining room is composed of seating in three distinct areas: the lushly landscaped front terrace, a central courtyard surrounded by the mansion's Romanesque columns and the grotto pool with tiling designed to resemble a silk scarf.
The sexy atmosphere and candlelit alcoves will soon eclipse Casa Tua's as the city's favorite date place. Feast on two-pound lobsters with hand-cut French fries, rack of lamb and Muscovy duck as you imagine Madonna traipsing through the place during her Blond Ambition days.
If you and your date feel like extending the night, there are ten hotel rooms to choose from.
We recommend the Moroccan suite with the shower big enough for twelve. Just in case.