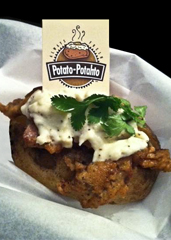 The humble potato: glorious in all its forms.
Sweet potatoes. Tater tots. Potato-tinis (patent pending).
But there's still one version that reigns supreme... the baked potato.
Meet
Potato Potahto
, the first and only Dallas food truck dedicated to the glorious tuber in its most delicious form, rolling out tomorrow in the Arts District.
We don't really need to explain the why. Or the how. So we'll just thank one noble East Texas man, who—armed with some baking tips from his mom—is bringing you this long-overdue tater wagon.
You'll have two options here. One, the Potato menu—a
build-your-own situation
where you can choose toppings like jalapeños, various cheeses and, of course, bacon. (No need to bring your own.)
Then, there's the Potahto menu—mostly a rotating list of daily specials. On Tuesdays: beef fajita baked potatoes. On Wednesdays (like tomorrow): chicken-fried steak with gravy packed onto your potato—basically a massive chicken-fried steak french fry. (We'll let that wash over you for a minute.)
And for dessert:
Reba's Sweet Potato Pie
, named after the owner's mom.
No, it's not Reba McEntire.