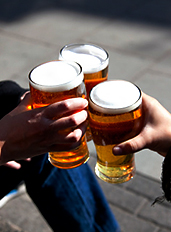 Football is over. We've established this.
And along with that comes the blinding realization that tailgating, too, must die with it.
But on the strong to very strong chance you decide to carry that torch into, say, March Madness, allow us to suggest a different approach...
Going pro.
So say hello to
Tailgater
, a new website that exists for the sole purpose of helping you flawlessly execute your best-laid parking lot plans (and see who else is partying nearby), online now.
First, picture your tailgate. The Rick James tribute band. The coffee-marinated short ribs. The beer-marinated short brunettes. Now, picture it having its own dedicated website, where you can assign certain people to bring certain things, map the location and send out invites to the chosen few. That's what this thing does.
You'll start by hopping online and registering, at which point you'll be able to create a custom tailgate page based on a specific game and location (say, Braves spring training and somewhere with palm trees).
From there, the site will walk you through the delicate process of assigning tasks (you'll take "sit there and sip brown things"), providing directions to your parking spot and deciding whether or not you want to open things up to the public.
Correction, your public.