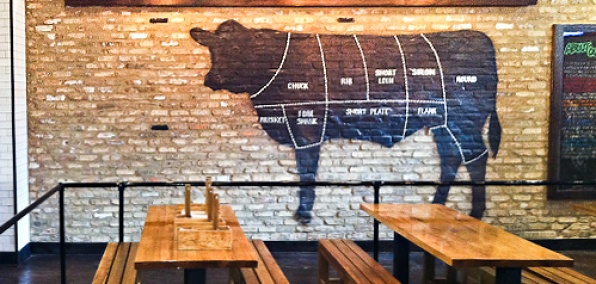 National Burger Day.

Apparently, it exists—presumably thanks to the lobbying efforts of farmers, grillmakers, the Hamburglar and other assorted characters. You know, Big Burger.

Anyway, it's tomorrow. And we don't want to make a big deal out of this, but... you might want to celebrate here.

Feast your eyes on Chop House Burger, a laid-back new spot from, yes, the folks behind Dallas Chop House, opening tomorrow in Downtown.

Imagine the meat locker where Rocky Balboa trained. Now add lunch specials. Then you have this place: meat hooks hanging from the ceiling, a huge diagram of a cow, freezing-cold temperatures. (Okay, maybe not that last one.)

As for the burger, well, if you've had the one at Dallas Chop House, you'll probably recognize this one. What you won't recognize: the menu's ahi tuna burger, chicken-fried steak and the humble little masterpiece that is the namesake burger, made with black summer truffle sauce and a fried egg on top for good measure.

It works like you'd expect. You come here hungry. You order at the counter. You take your burger and settle into one of their picnic tables. Go ahead, chase it with white truffle parmesan fries, a milkshake or a Firemans #4. You leave... not so hungry.

Repeat as necessary.