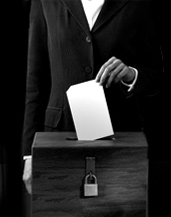 Throwing an epic party requires certain things.
People. Ice. Music that touches one's soul (see: Wonder, Stevie).
Also: the absence of music that doesn't touch one's soul (see: Bieber, Justin).
Here to help with that last part:
Anthm
, a new app for your iPhone and iPad that essentially turns your party's music playlist into a democracy, available now.
So fade in: you're throwing an intimate St. Paddy's Day party (just a few hundred friends). You've got the Irish whiskey, the leprechaun ice sculpture and the indoor rainbows.
You'll then invite your guests via Anthm, and once they confirm, they'll get access to over 12 million songs, picking out their favorites and adding them to the party playlist. On the night of the party, these songs will then be played through the app (and your custom Marshall speakers, naturally).
And don't worry if things get disturbingly boy-bandy mid-party. Any guest who knows the party password can vote to move better songs up the playlist and worse songs down the playlist.
Tip: don't set the password as "party."