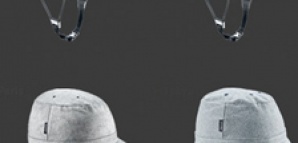 Hat weather is upon us once again, coinciding nicely with bike and Vespa weather. Unfortunately, those pesky laws require a thicker, more fiberglass-y form of headwear than you'd typically sport during sweater season. Unless you can find a way around it.

Allow us to suggest the new line of Danish SmartONE Helmets, a bit of head protection with a little more discretion than the standard-issue hard hat.

Unlike its turtle-shaped brethren, these helmets look more like proper gentlemen's hats than protective wear, so you'll stand out on your morning commute. The SmartONE starts with a standard plastic shell, but lets you slip a cloth cover on top to transform your head-bubble into an unmarked ball cap, a gray knit beanie, a fuzzy equestrian cover or a khaki Gilligan-style sun hat—any of which should go over better than looking like there's half a bowling ball on your head. And, if one of New York's finest happens to pull you over, you'll be entirely up to code.

One hat will be enough to keep you covered, but we suggest getting the full range to give yourself some options. Keep the ball cap for those sun-baked West Side Highway jaunts, the beanie for the desperate late-night burger quests and the full brim for your Sunday detox drive in the park.

With helmets, as with life, it's always important to diversify.