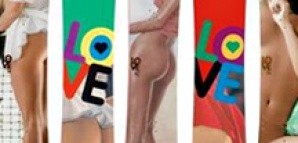 As you've discovered in the past with things like card decks and fountain pens, slapping a scantily clad woman on a product can sometimes lead to less-than-sophisticated results.

But we think Burton has more or less managed to stick the landing, taste-wise, with its latest release.

Presenting the new Love snowboard from Burton, a legitimate freestyle board that might just garner as many second glances on the mountain as your stylish ease.

A partnership between Burton and Playboy, the limited-edition board features a design by two leading pros on Burton's Global Team, Keegan Valaika and Mikkel Bang. Each of the four board sizes corresponds to a different minimally clothed beauty: 152s, for example, get a brunette with a fondness for polo, while 162s get a leggy blonde who seems to have misplaced her shorts.

As far as features a little more functional, all the ladies come with twin tips and park edges to help with handling, a low-maintenance base to deal with rail knocks and a mellow flex for a soft, controlled ride.

We'll just go ahead and put our fist in our mouth now.