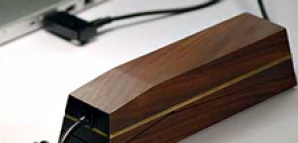 Things look pretty scary on the financial front. But even more frightening are your colleagues trying to save a few dollars by switching to internet-based telephone services. Nobody looks good wearing one of those computer headsets.

You, however, are connected via your new Pappa*Phone by Hulger, the telephonic equivalent of an Eames chair, now available for Skype customers.

Each phone is hand-carved to order from a single block of American or black walnut and edged with a thin brass strip. The sturdy phone is also designed to wear in with use, meaning that like you, it grows more handsome with age.

With no buttons or dials to interfere with the handset's understated elegance, you'll simply plug it into your USB port and dial from your keyboard. Store Pappa in your briefcase next to your laptop. When business calls, you'll plug it in and be ready to go in seconds, looking as smooth as you always have.

Because your style is recession-proof.