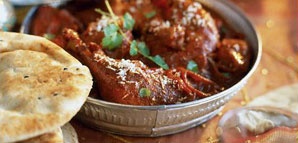 You gave up on finding good Indian food in this city the day you overheard someone refer to samosas as empanadas. For mainland tandoori fiends, the pickings have been slim.

But that's all about to change.

Introducing Bengal, a new Indian restaurant open today on Biscayne Boulevard, ready to satisfy your constant curry cravings.

The bi-level space is bright and airy and cliché-free. Mint green walls, burgundy banquettes and gilded fabrics lining the staircase give the room an uncluttered, polished feel. At night the lights go dim (and multi-colored) and Bollywood movies loop endlessly on flat-screen TVs, putting you in the mood for the festive feast to come.

The Bangladeshi owners know a thing or two about running a kitchen, having worked with chef Michael Schwartz back when he was at Nemo (and in their free time, catering family parties where the beats were booming and the papadoms legendary).

Now they've opened a friendly neighborhood spot to enjoy the greatest hits of Indian cuisine. But these aren't spiced-down dishes modified for American palates. Expect fire, and revel in kebobs and sauces that sparkle like a feisty Mumbai starlet. Pair the puffy naan with dishes like Carai Shrimp cooked in creamy tomato sauce and Madraj Spiced Lamb served with fluffy saffron rice.

There are also chutneys, daals and samosas aplenty, but the real showstoppers are the tandoori specialties, the appropriate vittles for an exotic night out.

Which is one area, of course, where your pickings aren't so slim...