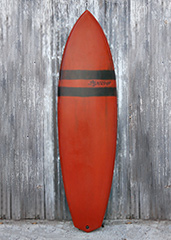 The temp: 75. The sky: blue. The time: now.
Conditions are absolutely perfect for your meeting downstairs with accounting.
Oh, and maybe surfing...
Take a look at
Steamship Surfboards
, a new Venice-based line of custom retro boards straight out of the '60s, available now.
Think of that movie
Endless Summer
. Now think about climbing inside your TV to steal one of Robert August's boards, but without the
Poltergeist
-ish creepiness that would entail.
Basically, you'd end up with these. Designed by your new board guy—call him Florian Saylor—who hand-shapes and hand-foils your board not far from the shore. He also uses some futuristic resins and polyurethane blanks to... well, what you need to know is that your board will be about 25% lighter than normal.
He can do them in a bunch of different shapes and sizes, single- or double-fin. But the colors and finishes will give them all a real '60s vibe that'll make you look like you've been surfing for decades.
With the taut calves of a 19-year-old.