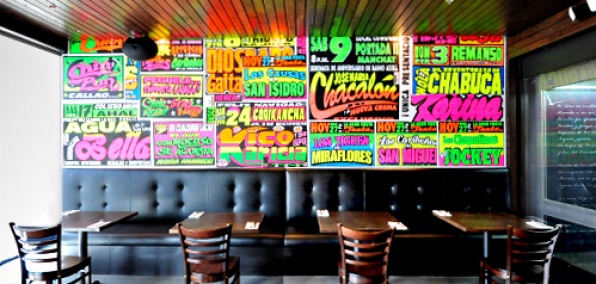 Well, hello there. You're looking well-rested from the three-day weekend.

Which reminds us: you've got one less day to plan this coming weekend.

Good thing Sunday's taken care of...

Presenting Pollos & Jarras, two floors of Peruvian delights from the folks behind Cvi.Che 105, opening Sunday.

Imagine some international street artist's loft in the '80s and you've got some idea of what you'll find here: exposed brick, slate drawings of Incan tribespeople and neon posters for parties in Peruvian barrios. (The posters are called "popularios," next time you're in Lima.)

You'll come here for a meandering dinner with, say, some Peruvian diplomats ready to let loose. Perhaps partake in a combination of meat/sauce permutations from the spit. Throw a bottle of pisco into the mix. Maybe even go for a whole rotisserie chicken. (Diplomats: huge on rotisserie.)

But if you require drinks alfresco with a particularly winsome emissary, head straight for the outdoor lounge downstairs (called Wasska, if you're being formal). Here, you'll settle into a cozy banquette, sit next to lamps wrapped in traditional Peruvian skirts, order up some light tapas and wash them down with a cocktail, possibly one presented in flames.

Or, you know, a beer.