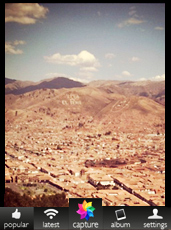 Welcome back. We trust your Presidents' Day was fruitful and educational.
Now for something totally unrelated: your photography.
On occasion, you wish your snaps were a little more... lifelike.
That they really captured those things that only you see.
Well, a wonderful coincidence has occurred...
Say hello to
Cinemagram
, an app that creates animated photos because non-animated ones just aren't cutting it anymore, available now for iPhone and iPad 2.
You know those hilarious GIFs you look at when you're... er, working diligently, but sometimes they just show up on your screen anyway. The short clips of 50 Cent laughing at Rebecca Black, or ostriches skiing. Well, this is an easy way for you to make them yourself. (We're sure productivity will skyrocket.)
It's very simple. You record two to three seconds of someone or something raising an eyebrow, shifting the perilously unknotted strap of a bikini top or being a particularly hilarious cat. The app will break down the recording into frames. Then you'll choose which section of the frames you want to animate (that strap), add a filter to make it look all vintage-y, and bam. You've got a moving photo. And since there's no doubt you'll want to publish these vibrant personal documents, you can put them right up on Tumblr, Facebook and Twitter.
Next up: talkies.