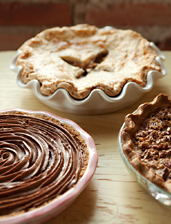 Congrats, last night went perfectly.
Well, except for one little, teeny, tiny detail—you have a nagging feeling Jerry Jones is never letting you house-sit again.
Oh, and you forgot the dessert.
Allow us to help with that last part: welcome to
The Emporium
, the city's first pop-up pie shop, open for one wild weekend only.
First, meet Mary and Megan. You may recognize them from Corner Market (the training ground for pie slingers on the make). Now they're going brick-and-mortar in Bishop Arts—short-term—with a little blue cottage of a shop. (If it goes well, they'll stick around—and you'll gain one conveniently located emergency pie spot.)
But back to your Valentine's date recovery plan. Head here. Stay strong. Walk past the white tables with flowers on them, past the colorful photos of snow cones, past the whole pastel tea party crush of it all... and you'll find it: pie. Two highly specific kinds of pie.
Drunken Nut
, made with shortbread crust that's overflowing with bourbon-soaked pecans. And
Smooth Operator
, a French silk chocolate number with a pretzel crust and chocolate icing caked on top. Each comes in a wicker basket with a bow on it.
Nothing says "Forgive me" like wicker.