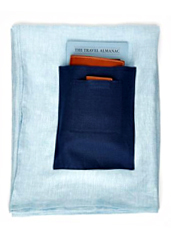 Finally, it's here: summer.
Okay, so technically it's February. But still... warm. Warm enough to call up the Raleigh and have them take your beach chair out of storage.
But before that, you'll probably need a towel. Here's a nice one...
Presenting the
Travelteq Travel Towel
, a handsome number designed to keep you and your papers/iPad/top-secret dossiers safe from any cannonball-induced tidal waves, available now.
So yeah... it's a towel. And it does normal towel stuff—dries you off, keeps your duff sand-free while you enjoy a daiquiri at the beach, acts as a defense weapon when rolled and snapped properly.
But it's also more than a towel. You see, these things are handmade in Amsterdam from Irish linen—the same kind used to wrap pool cues and keep them sweat-free. What that means for you: you can count on this to soak up pretty much anything in a ridiculously fast amount of time. And since there are two stitched-in compartments, you can also stash your wallet, keys, Kindle, demi bottles of champagne, ham sandwiches, whatever you need—and know that they too are protected by an impenetrable force field of dryness.
It also works great as a bib.