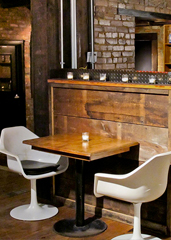 Tonight: lobster, oysters and champagne.
Tomorrow: leftover lobster, oysters and champagne.
But by Thursday, you'll be ready for something simpler. Warmer. Broth-ier.
Like steaming bowls of pho in the middle of a gallery.
Get ready for the
Pho U Pop-Up at the Montserrat House
, a three-day, no-reservations pho extravaganza kicking off on Thursday.
First, a few words about the space: it's a two-level row house in Shaw that ESL Music has been using for gallery shows, CD release parties and concert after-parties. But this weekend, they're opening it up to all comers, particularly noodle-craving comers.
You'll lead your newly minted Valentine (the best kind) up the stairs to a full bar and dining room presided over by a DJ and ringed with Bob Marley photos on display for the current exhibit.
Once you take your seat, you'll delve into the menu and begin trying
all manner of Vietnamese morsels
, such as garlic wings, crispy pork and shrimp spring rolls, before you get to the main event: pho with your choice of brisket, eye of round or housemade meatballs.
You'll want to get here early, because they don't take reservations for the mere 14 tables they're setting for the occasion. Although you could be forgiven for showing up late on Saturday, when you can karaoke late into the night.
Nothing warms up your pipes like pho.