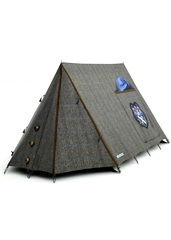 It's that time of year again.
That time when you find somewhere secluded, feast on some local cuisine and then retire to someplace a little more... rustic.
You know, Everglades time.
Presenting
FieldCandy Tents
, an invention that may revolutionize your entire world (or at least the camping part of it), available now.
We know. This is potentially earth-shattering news—at long last, the world's best graphic designers have applied their talents where they were needed most: your tent.
This is basically what would happen if a Savile Row tailor worked for Coleman—tents made to look like tweed jackets and leather suitcases, that kind of thing. They're all designed by people who have done graphics for high-end fashion houses and gaming companies, and even album covers for Bowie. (Finally, the perfect complement to your Ziggy Stardust flashlight.)
So, picture it. You're in the 'Glades, wrapping up a long day of gator-slaying with your s'more skewer. It's the perfect moment to start muddling the mint for your evening mojito on the front porch of your new live-in tweed jacket. Or perhaps take your new artsy abode to one of those weekend-long music festivals on Key Biscayne as a stylish refuge from the masses.
We hear rum makes for excellent alligator repellent.