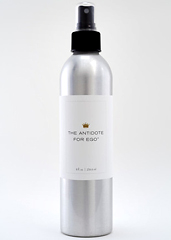 These are facts:
1) Sometimes you're not happy when you'd rather be happy.
2) Sometimes you're apathetic when you'd rather give a damn.
3) That was a really awkward performance by Nicki Minaj last night.
This is an opinion: someone should invent a spray that fixes all of the above.
Oh wait...
You guessed it. Say hello to
The Antidote for Ego
, four individual aromatherapy sprays specifically designed to reverse whatever undesirable mood you're experiencing at the time (assuming you're afflicted with such things), available now.
First off... weird. But considering your average day consists of anything from managing a full stable of less than cerebral interns to dealing with your office caddie's insistence that your Zen garden shouldn't count as a sand trap, we figured it may be worth a shot.
So you'll jump online and order all four bottles—
Passive
,
Aggressive
,
Apathy
and
The Antidote for Ego
.
The first three are fairly self-explanatory. Take, for example, if you're feeling tired or indifferent. Give yourself a dose of
Apathy
and let the rosemary (it's a physical and mental stimulant), lavender (it's supposedly a cure-all "nerve tonic") and grapefruit (it's... fruity) take over.
Then there's that last one. Not that this applies to you, but it's basically designed to make people less narcissistic in their everyday lives.
Kanye: 1. This stuff: 0.