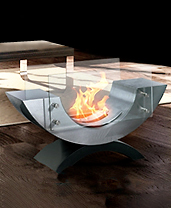 So.
Big day tomorrow.
You've got the rose petals laid out. You've got the Luther Vandross CDs cued up. But you still need something to set the mood from a temperature standpoint.
And it might help if it were mobile.
Allow us to suggest
Pureflame
, a smokeless fireplace you can set up anywhere, available online now.
Think of this as the fireplace version of those portable holes that Wile E. Coyote used to pull out while chasing the Road Runner. Because you can place this anywhere you want, inside or out, and you don't have to worry about: a) smoke, or b) wood (it doesn't require any).
So imagine: it's tomorrow night. (Or, due to shipping constraints, next Valentine's Day.) You've had a great dinner and a nice horse-drawn carriage ride. You and your date head back to your apartment for a nightcap. When she uses the bathroom, you'll pull this out, add the ethanol fuel, light it and have it waiting for her on the coffee table. (Yes, we're still talking about the portable fireplace.)
And there's no need to rush. The fuel is a pure plant derivative, which means it's odorless, it's environmentally friendly, and it will burn for two to five hours in one go-round.
Kind of like you.