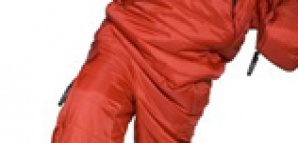 When time comes to hit the sack, you generally like to stay limber.

Especially in the great outdoors, when you might suddenly have to rise without warning to battle a rogue bear or, you know, open up another fifth of whiskey. So you might consider zipping yourself into a Lippi Selk'Bag.
 
A notable achievement in the field of mobile bedding, the body-shaped sleeping bag is like a more-pillowy astronaut suit, leaving you free and able to catch some spontaneous shut-eye in a tree, atop a rocky summit or wherever you happen to be when the mood strikes.
 
The current base version, with leg vents and zippers to free your hands, works for your everyday camping sessions in Big Bear, but the deluxe model packs on additional features like thicker padding and more extreme-temperature resistance (for your especially guerrilla camping excursions). And in November, just in time for your intense winter treks, you'll be able to scoop a new high-tech version filled with down or PrimaLoft, which improves the bag's water-resistance.

In case looking at the lake is making you think power nap.