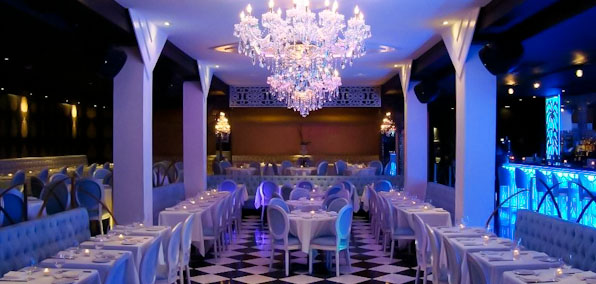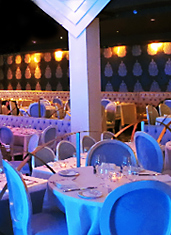 There's a disturbance coming from the 27th Street corridor. An old-school MePa stalwart, reopened 13 blocks north of its former glory. Its name:
Son Cubano
. Its game: live music, indoor palm trees and just the right amount of Latin-flavored crazy. To celebrate, we've compiled a few survival nuggets. Fair warning...
Patrons might be wearing masks. This is normal.
The club is directly next to
Sleep No More
, so expect spillover. And occasional screaming.
Men can't wear jeans. Women should wear silky tops.
Or so they say. Feel free to call their bluff.
No, you're not in South Beach. No, it's not 1990.
Despite what the crystal chandeliers, pastel lights and faux palm trees might tell you.
Sit in the cheap seats.
The white chairs/tables/banquettes that ring the chessboard dance floor. These upper-deck spots are the best in the house...
... And the farthest away from the loudest five-piece Latin band of all time.
Leave the food, take the salsa.
There are other (better) spots for paella. You're coming here to dance the dance of Victor Cruz.
But beware of the Russian cougars.
They're everywhere. And they're definitely adhering to the silk-top dress code.
Remember to hydrate.
The drinks are Cuban. The pours are strong.
And when the clock strikes midnight, brace yourself.
Out comes the DJ, sparklers and table-dancing. This excites the cougars. This excites the cougars very much.