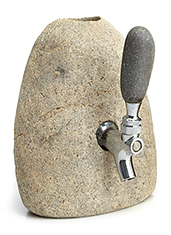 Rocks.
They're everywhere. Especially along the seacoast of New England.
And generally, they're totally useless.
It'd be nice if they finally did something for you. Like talked to you. Or acted as a base to pour out liquor from a stainless steel spigot.
Boom: presenting the
Stone Drink Dispenser
, a rock/alcohol-dispensing beer tap thingy, handmade in New Hampshire, available now.
So yeah, this thing is a big stone. Like, seven inches in diameter, and designed to hold a bottle of liquor upside down and pour out its nectar through a stainless steel beer tap (which also has stone on it). That's pretty much it.
The New Hampshire guy who makes them (his name is Jeff) does each one by hand and uses rocks he finds up and down the coast of New England. So each one of these roughly 15-pound lumps of earth is one-of-a-kind (much like the people found in New Hampshire).
So picture it: you've returned to your apartment with your date, a PhD candidate in coastal geology. Drinks are in order. That's when you'll glide over to this rock-based dispenser, pour a couple fingers' worth of hooch and settle down with some mood music.
Perhaps Bob Seger's "Like a Rock."