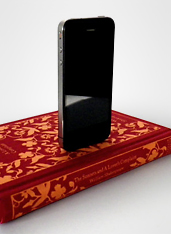 You're only hours from the big day.
No, the other big day. Rhymes with "Schmalentine's." And you still need a good gift. Something classic, but not too classic. Something modern, but not too modern. And if it can charge your partner's iPhone, even better.
Introducing
Rich Neeley Designs
, a SoCal-based enterprise that has transformed
Wuthering Heights
and other classic novels into phone chargers, available online now.
If you've ever looked at your bookshelf and been a little bored by the fact that its contents could do nothing more than expand your mind, these babies are for you. The designer scours old bookstores to find only the finest-looking vintage tomes, then rigs them with a dock to re-juice your iPod or iPhone. (We hear Franzen has one of these in every room.)
So picture this thing, all wrapped up on February 14. You hand it over, looking deeply into each other's eyes. And voilà:
Shakespeare's Sonnets
. Or
Pride and Prejudice
. Or
Jurassic Park
. (Danger is sexy.) And then you reveal the twist—it's for show. Nobody has to read anything.
Except that stack of scripts you've been meaning to get to.