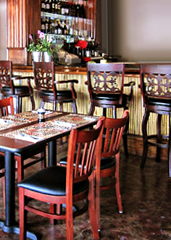 It may be hard to focus today, what with Super Bowl weekend looming and all.
So allow us to cut through it with some important key words.
Wine. Meat loaf. Bourbon. Buena Vista.
In case you need more...
Welcome to
Café 46
, your new power-lunch spot/after-work hangout from the team behind the old Joe Allen, now open near the Design District. 
You might recall the legendary Joe Allen, a place steeped in salami-flecked salads and a bar scene that was like a tanned version of
Cheers
(emphasis on the Shelley Long years). Then it closed.
But now the gang from the old joint has migrated over the causeway to this arch-ceilinged spot that used to be Amendment XXI. They've spruced it up with a few coats of paint, an L-shaped bar and large picture windows that give the space a Parisian bistro vibe. And, you'll be happy to know, they've replicated almost the entire menu from the previous spot.
Which means during the day, you'll come here for dealmaking lunches on the outdoor patio over
Applewood Smoked BLTs
on country bread. And at night: hearty dinners of meat loaf with mashed potatoes capped with
New Orleans Bread Pudding
with bourbon sauce.
It's like Mardi Gras in a bowl.