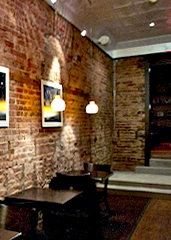 You're not Batman.
But you are known to be efficient and all-business by day, something darker and more mysterious at night.
Now, so is one of your go-to coffee shops.
Introducing
Pound Bistro & Wine Bar
, the new nocturnal incarnation of Pound, now open every night to bring some Belgian ale, pinot noir and braised brisket to your espresso shop.
Sure, you've grabbed a tall Nutella latte here to perk you up before your meeting with the Commerce Committee chairman. But now, like the Bruce Wayne of coffee shops, the place will transform after 5pm into an unexpected, after-work date spot.
So when you show up here at night, you'll skip the fluffy chairs and farmhouse table up front and take up at one of the high-tops near the long brick wall. Or better yet, keep going to the quiet, clandestine back room, marked by travel books and a giant world map.
There, you'll take your pick from 17 wines by the glass and beers like Duvel and North Coast PranQster, before getting started on
cheese, charcuterie and mains
like Thai-style snapper and crispy Cuban pork on fried plantains.
The kitchen closes at 10 most nights, but they'll keep the bar open until midnight for you. Along with the espresso machine, in case you need an extra kick.
They haven't forgotten their old tricks.