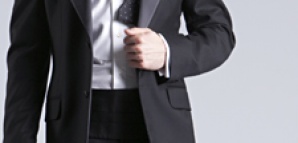 You love your jeans and T-shirts as much as anyone, but they don't always mix with the other side of your closet. So when someone who's made their name in denim crosses the formal divide, we get concerned...but also a little curious.

Introducing Spurr's new line of suits and accessories, a few upscale gems from a denim guy, hitting stores this week.

Simon Spurr's been churning out quality jeans since he left Ralph Lauren's Purple and Black labels to go it on his own, but he's finally come up with something you can take into the boardroom. The suits won't get rid of your wild side, but they'll mold it into something a little more versatile, with Wild West touches (like the python-skin boots and exposed ties) hearkening back to a time when three-piece suits still had a few hints of the unsavory. In other words, don't be surprised if you're mistaken for the company's in-house gunslinger.

The slim chalk-stripe three-piece is the flagship model, but you can try out a tuxedo if you're getting extra formal—or you have an embassy ball to attend. And if you feel like getting rough again, there's always the Belstaff-style wax cotton motorcycle jacket, the perfect thing to save your skin next time your Vespa goes down.

Just because you're in a suit doesn't mean you can't get your hands dirty.