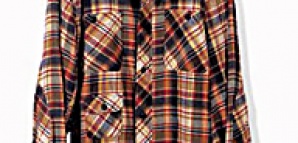 For the most part, you're a big fan of this fall's '90s revival. Watching Shannen Doherty in a 90210 update seems harmless enough.

But we applaud you for drawing the line at the disturbing amount of flannel, drab outerwear and combat boots invading this year's fall fashion lines. Much like Frances Bean Cobain, your sense of grunge has matured.

That's why you'll like Woolrich Woolen Mills, a boutique line from the 178-year-old Pennsylvania textile maker better known for outfitting the Field & Stream set than the jet set. Its idea of grunge is more 1830s than 1990s.

Overseen by Daiki Suzuki, the Japanese-born designer who made his bones with an obsessive reverence for Americana outerwear, this line gives you all the classics, updated for your life outside of duck blinds and mosh pits.

Pieces such as the meticulously sewn flannel plaid shirts, tapered Ranger Pant chinos and leather-trimmed wool peacoats will be all you need for a weekend of outdoor adventures at your Michigan retreat. Yet, contemporary lines and more up-to-date fits mean you're set for a little urban indoor adventuring, too. Just throw on that Upland BD chambray shirt and maybe a tie, and you're on your way.

Ready to come as you are.