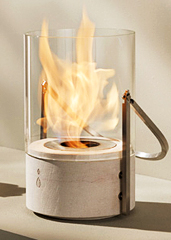 All those scenes of Liam Neeson stranded in the Alaskan wilderness have got you thinking: you really should learn to master fire. Summon it up from anywhere.
Or at least mount it on your wall to set a romantic mood.
Introducing
Acquaefuoco
, a new line of self-contained fireplaces for just about anywhere you might need one, available now from Italy (just like all your other essential possessions).
These are frames of steel, glass, even marble containing fire that seemingly comes from nowhere. (Actually, it comes from a clean, bioethanol fuel that will last about three hours.)
So it's pretty easy to set up, but you're still going to have to contact some people in Italy and tell them what you'd like: one of nine wall-mounted models (an upgrade from your fireplace-log VHS tape) or one of 22 floor-standing fire sources (we're partial to the high-top table with the s'mores-ready fire pit in the middle).
No chimney or gas line is needed, so you could even throw one in your backseat for a midnight picnic next to the Washington Monument. (Note: do not tell the Park Service we suggested this.)
And because you like a little yin with your yang, they've also got a couple of bedroom-ready, self-generating waterfalls in frames.
Just don't go chasing them.