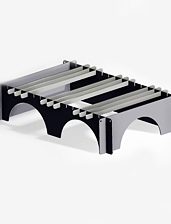 Consider this a sequel.
You see, yesterday we told you where to get
all the barbecue
27 to 32 people can eat.
But there are still a few loose ends. Like: where the hell to get express written consent from the NFL for your viewing party. Also: what to use when it's time to grill all that brisket.
Introducing
SlatGrill
, a superlight grill that can cook your cookables by any means necessary, available for meat-soaked mealtimes now.
Imagine a grill. No. Imagine every grill ever made. Now just imagine all of them could fold up flat and be taken anywhere, including your kitchen. That's this thing. It's flexible (much like the Patriots' secondary) in that you can fix it so that it can hold anything you want with its movable slats. And you can use pretty much anything hot (wood, gas, coal, candle, etc.) to cook your award-winning ribs. Or someone else's award-winning ribs.
We can see it now: halftime. The shrimp skewers you prepared were a revelation. But guests are getting restless (read: hungry again). Fortunately, that side of bison you've been saving for just such an occasion has finally thawed. You'll move the slats into a slightly wider, buffalo-friendly position, and slap on your new side of meat. Crank up the gas or throw on some hickory and let that thing cook to perfection.
Or at least to medium rare.