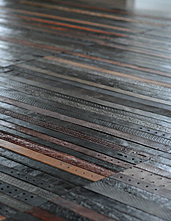 Avant-garde. Handsome. Sleek.
When you hear those words, you're thinking of one thing and one thing only: custom flooring.
Okay, maybe not, but stay with us...
Meet
Ting
, a London-based design firm that turns vintage belts and wallets into anything from floors to hammocks, taking custom orders now.
Okay, first, control your enthusiasm. Yes, it's true—you can cover your floors, walls and staircases with old belts thanks to one resourceful gal named Ting. She's covered floors and walls at the Nike offices and Warner Bros. Studios, so she's certainly worthy of your new rumpus room. (Barely.)
Here's how it works. Ting will gather reclaimed leather goods—wallets, bags and yes, those used straps that hold up your pants. Then the process begins. She'll arrange them into patterns and weave them together, creating a piece of art that's good enough for you to walk on. (Well, once someone throws rose petals on top.)
We see this fitting into your world in many ways. A new hammock made of wallets for lazy summer days spent between two maple trees. A bag made of old seat belts for your Valentine. And, of course, a wall made of dark leather belts to wrap around your new trophy room.
It'll offset the shine from your Heisman.