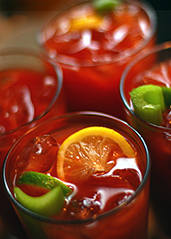 The
Atlanta Underground Market
. You know the drill: show up once a month to an undisclosed location. Eat strange things. Leave.
It's a solid formula.
But you may be interested to hear that they're trying something new this weekend... brunch. And since you'll also be requiring Bloodys and mimosas, they'll have those, too.
Below, a few essential comestibles to seek out between vodka runs at the first-ever
Atlanta Underground Market Brunch
...
Monte Cristo French Toast Kolaches from
Cake Hag

Up to now, you've counted on
Cake Hag
for your alcohol-rich dessert needs. But this Sunday, you'll count on them for fried pastries filled with smoked ham, Swiss and maple syrup topped with cinnamon and powdered sugar. Which isn't bad either.
Alligator Spring Rolls from the Original Yay Yay

When you think brunch, you think spring rolls stuffed with alligator meat, rice vermicelli and cilantro served with a side of
Raspberry Devil Sauce.
Don't tell us you were about to say omelets.
Cocktail Cookies from Cookie Underground

We've already established that you'll be drinking mimosas and Bloody Marys. Turns out, you'll also be eating them. In cookie form. Think tomato cookies with cucumber vodka (that's the Bloody) and orange-carrot cookies with prosecco (that's the mimosa). See what they did there...
Brazilian Truffles from CC Brazilian Sweets

So apparently it's this big thing in Brazil to add random flavors to chocolate truffles. Things like pumpkin with coconut and white chocolate with prunes. Who knew. Anyway, now you get to try that stuff, too.