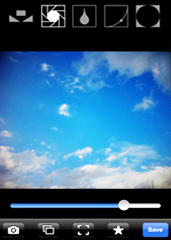 Your camera: always available for those painstakingly composed scenic byway landscapes and group shots of your annual Super Bowl party attendees.
Your phone camera: for those quick emergency shots, like capturing evidence of a mermaid, quality be damned.
Well, we're happy to say, those two are about to be combined.
No, you can't make a call with your Nikon, but you can download the
Mattebox
app, available now to let you and your iPhone make like Annie Leibovitz, Herb Ritts or whoever that guy was who shot Cheryl Tiegs in the fishnet.
Basically, this little piece of code makes your phone camera more like... a camera. Based on a famous Konica point-and-shoot model, it gives you an autofocus target in the middle of the viewfinder and displays focal distance, shutter speed, ISO and aspect ratio. Translation: your candid shot of Romney slicing into the $100 smoked lamb loin at your favorite restaurant will come out great.
Then, when you're done capturing your museum-quality still life, you can make the kind of adjustments on the fly that you'd normally have to wait to make on your desktop, like contrast, cropping or changing to black and white.
Note: this will not affect your ability to call people.