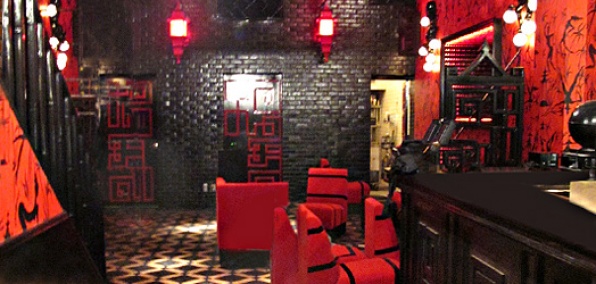 When a nightclub takes two years to open, it better have at least one of three things:

1) Shiatsu massaging banquettes.
2) A VIP, velvet-roped petting zoo.
3) A temperamental Renaissance man/Parisian bon vivant at the helm who knows how to throw one of the wildest parties in the world.

Introducing Le Baron, a hedonistic temple of global funnery that's taken Paris, London, Tokyo (and soon, a little street corner in Chinatown) by storm, opening this weekend for friends and family.

Like the infamous Paris original, this place is run by one André Saraiva. Film director. Graffiti artist. Amateur shoemaker (ask at the bar about acquiring a pair of his custom Le Baron Nikes). If you remember his last little venture on US soil, the Beatrice Inn, you'll have a pretty good idea about the scene here. Also, the door policy.

The concept: a gigantic, three-story house party... set in 1970s Vietnam. From the street, you'll enter into a long hallway that's wallpapered in gyrating exotic dancers and lit by enormous Oriental lanterns. Keep to your right and advance.

In the next room, you'll find the beating heart of Le Baron: a tri-level chamber with a lacquered black bar, a diamond-patterned dance floor and a token disco ball dangling from the ceiling. Above: a leathery mezzanine lounge. Below: the basement. All around you: unmarked, unlocked mysterious doors. Go ahead, explore.

We hear behind door number two is a set of steak knives.