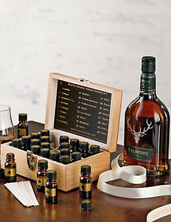 Whenever the opportunity presents itself, we feel compelled to pass along any news in the area of scotch research and development.
Now is one such time.
And if you can look beyond the overwhelming nerdery of what we're about to tell you, it may just save your life.
Or at least keep you from referring to a peaty scotch as "nutty"...
Because that's just unacceptable.
Introducing the
Whiskey Tasting Aroma Kit
, the next phase of your ongoing education in the field of liquid studies by way of 24 vials of whiskey-related aromatics, available now for your nosing pleasure.
Think of this as the University of Phoenix of whiskey education. Only instead of taking online courses about criminal justice, you'll be sniffing your way to a better tomorrow (read: developing an over-the-top skill set that you totally don't need).
Although if you happen to receive a surprise invite to the chairman's annual scotch-identifying party at his private estate on Habersham (it's only a matter of time), you'll be glad you did your research.
And that research happens to come in a maple case stocked with exactly 24 vials filled with scents like
Buttery
,
Cut Grass
,
Ethereal
and
Malty
. It's all designed to help you identify the hidden complexities of a fine whiskey just like you would with a fine wine.
Drinking it helps with that, too.