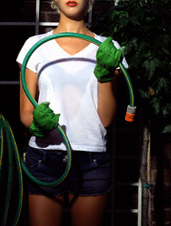 Normally, the people in your life don't battle over the right to do your laundry.
We know—we don't understand why they don't, either.
But thankfully, now there's
TaskRabbit
, a website that'll put you in contact with a fleet of assistants aching to do your chores and errands on the cheap, up and running now in Los Angeles.
So consider your last weekend. You had every intention of getting your tux to the cleaners, restocking your liquor cabinet and turning your dining room into a billiards hall. But instead... well, you went to a bar and then you watched
Homeland
.
So you could try and do all these things now. Or you could go to TaskRabbit, tell them what jobs you need done, and their deep stable of assistants will bid on the right to do them for you. It's sort of like a reverse auction—everybody submits their going rate for the gig, and the lowest bid gets the assignment.
Oh, and don't worry, all of these potential helpers are fully vetted by TaskRabbit—there's a background check and everything.
You don't let just anyone polish your
Breaking Bad
DVDs.