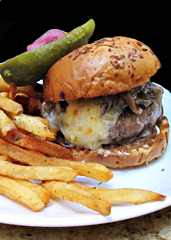 You've had soup in all kinds of things: cups. Bowls. Your pants. (Well, a thermos was involved.)
In a burger: not so much.
But you will. You most certainly will. And it will be called
The Onion Soup Burger
, available now from the new chef at Poste to give you your soup fix in a form a little less liquid and a little more beefy.
This is basically like someone taking the gooey, oniony top of a bowl of French onion soup and ladling it on top of a burger. (You'd think Franklin or Edison or someone would have thought this up already.)
So on a particularly brisk day (read: today), you'll want to settle in at Poste's bar and order this thing. There's an inch-thick patty of Virginia grass-fed beef waiting for you that's been aged, ground and aged again.
But here's where it gets interesting. Before you've downed your first ale, the chef pan-sears the burger and sets it on an onion bun with mayo and a pile of caramelized onions from the restaurant's French onion soup. He then melts a heap of comté cheese on top and dips the top of the bun in—naturally—the soup.
The result: a rich, melty and, yes, slightly brothy creation—like a patty melt on steroids.
Or French onion soup on HGH.