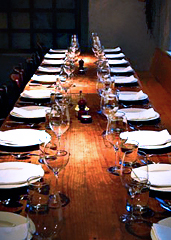 Going out to dinner should be special.
There should be food. Preferably the kind that's prepared tableside by a personal chef.
There should be wine. Preferably the kind that's poured liberally by that personal chef's lovely wife.
Also, there should be fog machines...
Exhibit A: the
Dead of Winter Dinner
, a two-time-only dinner party hosted by Zach and Cristina from
PushStart Kitchen
in an undisclosed Virginia Highland home that may or may not have fog machines, taking reservations now for this Friday and Saturday night.
You'll start by shooting Zach and Cristina a quick email requesting a spot at the table on either night, at which point they'll respond with the coordinates of the house.
Once you get there, don't be surprised if you see a step-and-repeat at the entrance (mostly because we're telling you there will be a step-and-repeat at the entrance). Take a few pictures with your date. Grab a cocktail...
Then, when it's time, enter the dining room and stake a claim at the massive, semi-imposing 20-person table that was handmade by
Darwin from Urban Reclaimed
specifically for this night. From there, course after glorious course will arrive tableside, from cauliflower soup with chorizo to pork confit with white bean puree, all paired with wine.
And if/when things happen to get a little... festive, the homeowners may even break out their fog machine and lasers.
It's not a dinner party until someone breaks out the lasers.