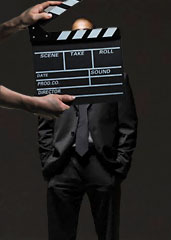 The other night, you turned on your TV, and it turns out somebody thought
Real Cupcake Apprentice Wars of Laguna Beach
was a good idea.
So there must be plenty of people out there somewhere who'll be into
your
idea.
Introducing
Mobcaster
, a new website that'll help you fund a show by harnessing the Internet to get money from people who like your pitch, online now.
Basically, this is like Kickstarter for TV show ideas. You put your pitch up on the free website, along with the amount of money you'll need to make that
Glee
-in-space spin-off pilot a reality. (Note to self: secure rights for
Glee
-in-space spin-off.) Then sit back and watch the money roll in.
And then—you go make your pilot. Throw it online. Sit back (again), watch the page views skyrocket and rally your new fans for more money to make a whole series. After you shoot and edit the thing, Mobcaster will broadcast it and you'll split the ad revenues with them, 50/50. No agents, no managers, no middlemen.
Just you and Lea Michele, working for $40 per day.