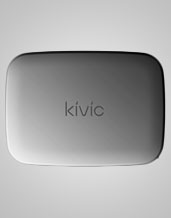 If there is one thing you love about this town, it's the traffic.
At 5pm.
On Woodall Rodgers.
When it's raining.
Okay, maybe not. So here's a little something to make it less brutal.
Meet
Kivic One
, a clever device that wirelessly streams music and video from your phone to your car stereo, available online now.
This does exactly what you think it does—it takes all the songs, movies and Internet-y goodness on your phone, and lets you play it through your car. Playlists. Pandora. YouTube. All of it. And if you're thinking, "Hey, I can do all of this already," here's the novelty—it lets you do all this wirelessly.
Here's how it'll go down. You'll take this thing, roughly the size of your wallet, and hook it up to your stereo via the auxiliary plug. Then, it'll magically beam any content on your phone to your speakers. (Or your car's video system, if you have one. And hey, why not.)
The advantages are obvious. No messing with wires when you get in and out of your vehicle. Having access to
Purple Rain
at all times. Streaming your short-film remake of
White Men Can't Jump
on your display monitor.
Hey,
someone
should enjoy sitting in a traffic jam.