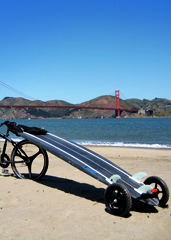 It's hard not to love sunny summer days... in January.
Sure, these warm, cloudless days are killing your snowboarding prospects.
But your surfing outlook is looking good to very good.
So, no complaints.
But just in case you need a little extra incentive...
Behold
The Mule
Surfboard Trailer
, a trusty, low-tech contraption that readily carries your surfboard and gear to the ocean—whether you're on foot or bike, available online now.
What this elementary gizmo lacks in complex engineering, it makes up for in getting-you-to-the-ocean-immediately. It's just a few yards of military-grade cordura nylon (that's strong enough to pull a car), clips and some straps. That's it.
The setup takes seconds, so if the waves are right (like the forecasted breaks in the well-overhead to double-overhead range) you won't miss out. And once you've got one board strapped on, you can use bungee cords to stack and carry other boards on top of it, or even tents and coolers.
You're on your own with the portable sauna.