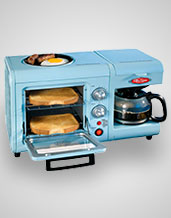 Some mornings you wake up with a to-do list breathing down your neck. And not in a sexy way.
You've got presentations to give. Miles to jog. An ex who needs to take off your lucky shirt.
You barely have time for breakfast...
Enter
The 3-in-1 Breakfast Station
, a Swiss Army knife of a kitchen device that simultaneously makes everything from bacon to coffee, available online now.
If Martha Stewart were a 1950s housewife and had a knack for engineering, she would invent something like this: a combination toaster oven, griddle and coffee maker. It's sort of retro-y, sort of Fisher-Price-y, but hey: it makes toast, coffee and bacon at the same time.
We see this thing being useful in a couple of ways. Put it in your bedroom, and breakfast in bed's a cinch. (Keep an eye on that batter.) Keep it in the kitchen in case your home barista goes on vacation. Store it in your office in case your morning meetings require some emergency bacon.
If only it made Bloody Marys.