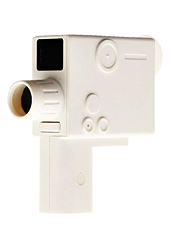 We need to talk about something unpleasant.
As you can probably guess, it concerns this weekend's Golden Globes.
We scoured the list of nominees, and nowhere has Hollywood's foreign press seen fit to honor your achievements in the cinematic arts. Shocking. Of course, actually making a movie would have really helped your chances.
So we thought by this time next year, you could be on the red carpet with the appropriate starlet on your arm. Here to give you a leg up with that is the
Fuuvi Bee
, a tiny video camera designed to help you capture your inner cineast in your spare time.
This is the camera for those who find that filming action sequences on their phone doesn't provide that requisite authority a serious auteur needs, but also find that the equipment James Cameron uses is woefully lacking in the ability-to-fit-in-your-jeans-pocket department.
What you get with this is a self-contained, palm-sized digital camera that records onto standard removable media and offers a tiny viewfinder and LCD monitor. It records in a style reminiscent of old-school 8mm film for that artsy-hipster tinge your opus needs. This will be particularly helpful if your film consists entirely of scenes meant to establish your protagonist's happy childhood in the late 1960s and early 1970s.
And we think you could bring the right sensitivity to
The Charlie Sheen Story
.