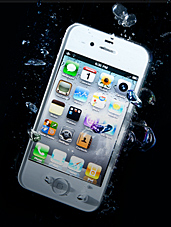 New Year's Eve.
You remember it like it was just last week.
Mostly because it's when you found out the hard way just how much champagne, hot tubs and your cell phone don't mix.
Correction:
didn't
mix.
Introducing
Liquipel
, a mind-boggling, invisible new coating that keeps your phone completely safe from liquid harm, available online now.
Picture your phone in perfect working condition. That's... it. You can't see this coating. You can't feel it. Really, you'd never even know it was there unless you immediately dipped the phone in your morning coffee when they sent the phone back to you. (At which point it would be painfully clear if it
weren't
there. Also: maybe don't do the dipping thing.) All invented by a California startup whose sole purpose was to create this coating.
It works... scientifically. You send them your phone. They put it in a chamber and cover all the phone parts in a vapor. The vapor solidifies and basically creates an invisible, liquid-blocking shield. In a couple days, you'll get the phone back. It's exactly the same as before, only now your gut-wrenching, slow-motion fumble into a snowdrift won't mean the end of your world as you know it.
Not that you've ever done that.