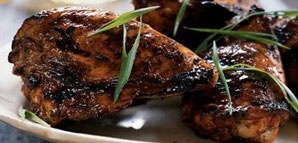 After college, you swore off restaurant chains.

A man can only have so many swiftly prepared breakfast burritos, and you proved it sophomore year. And then again senior year.

But we think an exotic import is worth bending the rules for. (They almost always are.)

Now open in Coral Gables: Pardo's Chicken, a Peruvian rotisserie outfit where poultry reigns supreme.

Sophisticated and modern for a chicken joint, Pardo's has been around for twenty years, with locations in Peru and Chile, and they take slow-roasting seriously (as well they should). The golden birds are cooked a la brasa, skewered along the metal limbs of a two-tiered oven and smothered in a marinade of fourteen secret ingredients (we detected salt, pepper and cumin, which leaves eleven for you to pore over). Pair them with steak fry-size fried yucca, tacu tacu (rice and bean croquettes) and a frosty Inca Cola (at least until the liquor license arrives).

There are also anticucho shish kabobs packed with chicken gizzards and cow heart, in case you feel like living dangerously.

We know how old habits die hard.