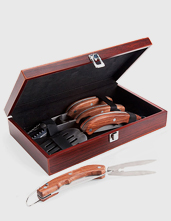 Big Falcons game coming up.
Playoff big.
So big, in fact, that you're considering picking up a new set of switchblade grill tools for the occasion.
Which is weird, because you have no idea what those even are.
Here's a hint: they're
Switchblade Grill Tools
. More specifically, a spatula, a fork and tongs that fold neatly into their handles, available now for any meat-related intimidation tactics you've been considering.
So here's how this is going to go. Since the Falcons are in New York this weekend, you're going to hop on a plane, set up camp at the Meadowlands and proceed to put on a rib tip clinic in the parking lot. Or maybe not.
Because most likely, you'll be donning your finest Matt Ryan peacoat jersey, nipping on something brown and Kentucky-y and firing up the grill in your own backyard instead. That's where these things come in.
And by these things we mean... well, a spatula, a fork and tongs. But as you slowly saunter up to the grill, open the mysterious wooden carrying case that houses them and flip your wrist with the panache of a thousand Two-Bits from
The Outsiders
, your guests will have no choice but to stand in awe of your charming coalside repartee.
Or try to fight you.