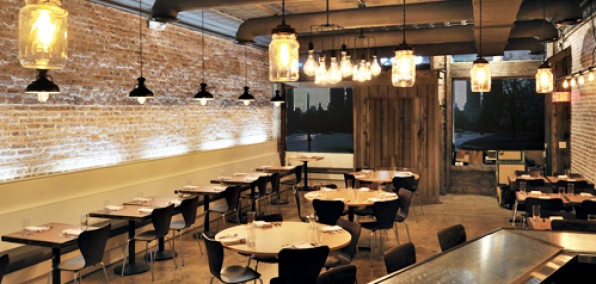 There are those things that don't seem to go together: Rick Perry and the presidency. New Year's resolutions and keeping them. Date spots and beef jerky.
Time to check that last one, because
District Kitchen
opens tonight to bring you that combo in all its glory.
This is the kind of mid-century industrial place where your grandfather might have taken a date to celebrate after V-J Day (hey, it worked for him). Think glass-jar pendant lights, brick walls, an antique stove doubling as a host desk.
For a quick after-work meetup, you'll head to the stainless-topped bar in the rear, where you can sample a dozen local beers, four solid wines on tap and cocktails like the
Kindness and Cruelty
(gin, Bénédictine, absinthe, vermouth), and snack on pork cracklins and a rotating selection of house jerkies.
But on the weekend, bring a date back (request a table in the front window when you reserve) and get to know each other over the moody lighting. To say nothing of creative,
sharing-sized plates
like an egg barely cooked and whipped into a hash of potatoes and forest mushrooms, or mussels steamed with hard cider and curry, or sorghum ice cream with carrot cake crumbles.
It crumbles quicker than the Bachmann campaign.